A new mobile application will allow doctors to get near-real-time electrocardiograph (ECG) data delivered to their iPads or iPhones so they can remotely monitor patients' heart health.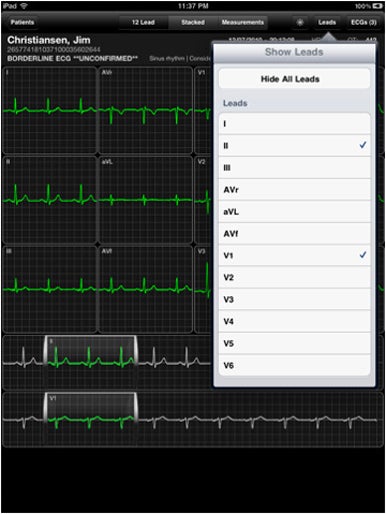 AirStrip Cardiology
ECGs measure electrical cardiac activities, such as ST segment elevation, which is an indication of heart attack risk.
In addition to giving users the ability to see near-real-time ECG readouts and providing access to interactive historical data, the AirStrip app comes with touch-enabled displays for running clinical decision-making software.
A screenshot of AirStrip Cardiology as it appears on an iPhone.
Cedars-Sinai Medical Center in Los Angeles said it will soon deploy the AirStrip app for its clinicians.
"Among physicians, there is incredible demand for enterprise medical information on iPhones and iPads," said Darren Dworkin, CIO at Cedars-Sinai, in a statement. "This new application introduces secure cardiology decision-making anywhere and anytime. The interactive functionality is more advanced than anything else available today and pushes the path toward a day when all clinical hospital information will be available on a mobile platform."
Physicians typically view ECG data from static scanned images. Remote ECG measurements are challenging because changes as small as a half-millimeter can indicate the presence of a serious heart condition. AirStrip Cardiology's high-resolution views can reveal such small differences on iPad or iPhone screens, according to GE Healthcare.
Information from 12-to-15-lead ECGs can be seen with AirStrip Cardiology. Clinicians can view current data and historical tests conducted up to one year earlier, in 10-second increments.
"Our vision is to eliminate geographic and logistical barriers associated with clinical care," Dr. Cameron Powell, AirStrip's chief medical officer, said in a statement. "GE Healthcare's global presence and cardiac innovations will help us expand our powerful mobile apps to cardiologists worldwide."