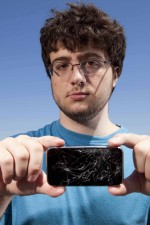 Former Apple employee and JailbreakMe.com hacker Nicholas Allegra, better known as Comex, will be interning at Google, reports Forbes.
Comex, who tweeted the news on Tuesday night, was hired by Apple as an intern in 2011. News broke that he was no longer with Apple late last year, after he forgot to respond to an email that offered him continued employment at the company.
Though Comex did not mention what he will work on at Google, he did mention his disdain for Android.
He added on Twitter that he won't be working on Android, an operating system that he has never "like[d] enough to ever want to hack it."
Before interning for Apple, Comex famously ran JailbreakMe.com, a site that offered a simple way for iOS users to jailbreak their devices. His clever exploits highlighted his talents and in an interview with Forbes, he likened jailbreaking to "editing an English paper… You just go through and look for errors. I don't know why I seem to be so effective at it."